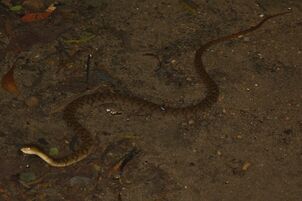 Eastern Water Snake or Olive Keelback Sinonatrix percarinata is a species of snake found in Myanmar (= Burma), Thailand, Vietnam, NE India (Changlang District, Arunachal Pradesh), S China (Hainan, Chekiang, Jiangxi, Fujian, Guangdong, Guangxi, Kweichow, Sichuan, Hupeh), Taiwan.
Race suriki: Taiwan. Type locality: Kuatun (= Guadun), Chongan Co., about 270 miles from Foochow, NW Fokien (= Fujian), China.
External links
Edit
References
Edit
Boulenger, George A. 1899 On a collection of reptiles and batrachians made by Mr. J. D. La Touche in N.W. Fokien, China. Proc. Zool. Soc. London, 1899: 159-172
Captain, Ashok and Anuprita Patel 1998 Sinonatrix, a new genus for India. Hamadryad 22 (2): 114-115.
Ad blocker interference detected!
Wikia is a free-to-use site that makes money from advertising. We have a modified experience for viewers using ad blockers

Wikia is not accessible if you've made further modifications. Remove the custom ad blocker rule(s) and the page will load as expected.