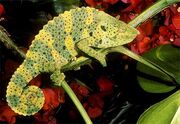 Chameleons are a type of lizards which can be found in many tropical areas of the world. With over 100 species, Chameleons are highly recognized by their ability to change skin color. It is only a myth that chameleons change color depending on their background. Real chameleons do use their colors for camouflage, however their skin color changes depending on their mood and the temperature around them.

Chameleons also have the ability to change the direction in which their eyes are looking, so this way they can look around them in two different directions, to watch for prey and for predators. When a chameleon finds an edible insect, it may stretch its tongue to twice the size of its own body to catch it, then eat it.
Ad blocker interference detected!
Wikia is a free-to-use site that makes money from advertising. We have a modified experience for viewers using ad blockers

Wikia is not accessible if you've made further modifications. Remove the custom ad blocker rule(s) and the page will load as expected.